Look Inside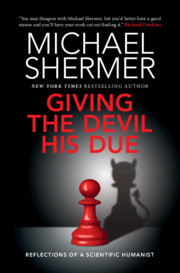 Giving the Devil his Due

Reflections of a Scientific Humanist
Price is not yet set
Publication planned for:

August 2021

availability:

Not yet published - available from August 2021

format:

Paperback

isbn:

9781108747585
Price is not yet set
Paperback
Not yet published - available from August 2021
Unavailable
Add to wishlist
Other available formats:
Hardback, eBook
---
Looking for an examination copy?
If you are interested in the title for your course we can consider offering an examination copy. To register your interest please contact collegesales@cambridge.org providing details of the course you are teaching.
Description
Product filter button
Who is the 'Devil'? And what is he due? The Devil is anyone who disagrees with you. And what he is due is the right to speak his mind. He must have this for your own safety's sake because his freedom is inextricably tied to your own. If he can be censored, why shouldn't you be censored? If we put barriers up to silence 'unpleasant' ideas, what's to stop the silencing of any discussion? This book is a full-throated defense of free speech and open inquiry in politics, science, and culture by the New York Times bestselling author and skeptic Michael Shermer. The new collection of essays and articles takes the Devil by the horns by tackling five key themes: free thought and free speech, politics and society, scientific humanism, religion, and the ideas of controversial intellectuals. For our own sake, we must give the Devil his due.

Outlines a ten-point defence of free speech and open inquiry in politics, science, and culture
Presents numerous real-world examples of how science and reason can be employed for solving moral dilemmas and determining human values
Supplies many examples of heretics and heterodox thinkers, who challenged the orthodoxy and were punished for it, and how we should think about people whose claims challenge mainstream ideas today

Read more

Reviews & endorsements

'Michael Shermer is our most fearless explorer of alternative, crackpot, and dangerous ideas, and at the same time one of our most powerful voices for science, sanity, and humane values. In this engrossing collection, Shermer shows why these missions are consistent: it's the searchlight of reason that best exposes errors and evil.' Steven Pinker, Johnstone Professor of Psychology, Harvard University, and author of Enlightenment Now: The Case for Reason, Science, Humanism, and Progress

'This is a rather difficult book for me to blurb, given that an entire chapter is devoted to criticizing my claims about pragmatic truth vis-à-vis scientific truth. However, Dr. Michael Shermer is a very clear thinker, and the kind of skeptic that is always necessary to ensure that public thought, scientific and otherwise, maintains a certain clarity. He's a passionate advocate of free speech, for this and many other reasons - to the point of entitling his new book Giving the Devil His Due, which is devoted to many worthwhile topics, but to free speech above all. Despite our disagreements, this is a necessary book for our times. Read it. And thank God and the powers that be that you have the right to do so.' Jordan B. Peterson, University of Toronto, and author of 12 Rules for Life: An Antidote to Chaos

'Michael Shermer is a fearless defender of free speech, open inquiry, and freedom of thought and conscience, including - and especially - for those with whom he disagrees. Giving the Devil His Due is one of the strongest bulwarks against the tyranny of censorship that I have read.' Nadine Strossen, New York University, former President of the ACLU, and author of Hate: Why We Should Resist it with Free Speech, Not Censorship

'… a detailed roadmap for thinking well and clearly about interesting and challenging ideas. This vivid, erudite, broad, and deep collection of essays is marvelously written - so much so that, as you finish one essay, you cannot resist starting the next. And the range - from ancient civilizations to the colonization of Mars, from free speech on campus to gun control in cities - is as astonishing as it is engaging.' Nicholas A. Christakis, MD, Ph.D, author of Blueprint: The Evolutionary Origins of a Good Society

'As always, Michael Shermer is hard-hitting, thought-provoking, and brilliant. The fascinating essays in this wide-ranging book will make you think - and then rethink.' Amy Chua, Yale University, and author of Battle Hymn of the Tiger Mother and Political Tribes: Group Instinct and the Fate of Nations

'Michael Shermer is the voice of reason, and this is a book of his best essays - the ones we most need to read to understand the madness of our time and to imagine a more reasonable future. The range of questions Shermer addresses and the breadth of his knowledge make this book a delight to read.' Jonathan Haidt, New York University, author of The Righteous Mind, and co-author of The Coddling of the American Mind

'Giving the Devil His Due is a treasure trove for lovers of the humanities and society at large as viewed through the perspective of scholarly minds, treatises, and essays. It's marvelously ripened and full of wonderful tales… ' Robert Hunziker, Counterpunch

'A powerful case is made here for why free speech is the best way to drive out bad ideas and fake news.' The Times

'A collection of skilful elucidations of academic ideas.' Christopher Silvester, The Critic

'Each essay is well crafted to provoke thoughtful reflection and amply referenced for those who wish to dig deeper into each topic … However, for any reader new to scepticism, Giving the Devil his Due would be an auspicious place to start.' Don Carpenetti, Chemistry World

See more reviews

Customer reviews

Not yet reviewed

Be the first to review

Review was not posted due to profanity

×

Product details

Publication planned for:

August 2021

format:

Paperback

isbn:

9781108747585

contains:

22 b/w illus.

availability:

Not yet published - available from August 2021

Table of Contents

Introduction. Who is the Devil and what is he due?
Part I. The Advocatus Diaboli: Reflections on Free Thought and Free Speech:
1. Giving the Devil his due: why freedom of inquiry and speech in science and politics is inviolable
2. Banning evil: in the shadow of the Christchurch massacre, myths about evil and hate speech are misleading
3. Free speech even if it hurts: defending Holocaust denier David Irving
4. Free to inquire: the evolution-creationism controversy as a test case in equal time and free speech
5. Ben Stein's blunder: why intelligent design advocates are not free speech martyrs
6. What went wrong? Campus unrest, viewpoint diversity, and freedom of speech
Part II. Homo Religiosus: Reflections on God and Religion:
7. E pluribus unum for all faiths and for none
8. Atheism and liberty: raising consciousness for religious skepticism through political freedom
9. The curious case of Scientology: is it a religion or a cult?
10. Does the Universe have a purpose?
11. Why is there something rather than nothing?
Part III. Deferred Dreams: Reflections on Politics and Society:
12. Another dream deferred: how identity politics, intersectionality theory, and tribal divisiveness are inverting Martin Luther King, Jr's dream
13. Healing the bonds of affection: the case for classical liberalism
14. Governing mars: lessons for the red planet from experiments in governing the blue planet
15. The Sandy Hook effect: what we can and cannot do about gun violence
16. On guns and tyranny
17. Debating guns: what conservatives and liberals really differ on about guns (and everything else)
18. Another fatal conceit: the lesson from evolutionary economics is bottom-up self-organization, not top-down government design
Part IV. Scientia Humanitatis: Reflections on Scientific Humanism:
19. Scientific naturalism: a manifesto for Enlightenment humanism
20. Mr Hume: tear. Down. This. Wall.
21. Kardashev's types and Sparks' law: how to build civilization 1.0
22. How lives turn out: genes, environment, and luck – what we can and cannot control
Part V. Transcendent Thinkers: Reflections on Controversial Intellectuals:
23. Transcendent man: an elegaic essay to Paul Kurtz – a skeptic's skeptic
24. The real hitch: did Christopher Hitchens really keep two sets of books about his beliefs?
25. The skeptic's chaplain: Richard Dawkins as a fountainhead of skepticism
26. Have archetype – will travel: the Jordan Peterson phenomenon
27. Romancing the past: Graham Hancock and the quest for a lost civilization.

Author

Michael Shermer, Chapman University, California
Michael Shermer is Presidential Fellow at Chapman University, California, the Publisher of Skeptic magazine, and the host of the Science Salon podcast, and for eighteen years he was a monthly columnist for Scientific American. He is the author of a number of New York Times bestselling books including Heavens on Earth (2018), The Moral Arc (2015), The Believing Brain (2011), and Why People Believe Weird Things (2000). His two TED talks, viewed over nine million times, were voted into the top 100 out of more than 2,000 TED talks.
Please note that this file is password protected. You will be asked to input your password on the next screen.
»
Proceed
You are now leaving the Cambridge University Press website. Your eBook purchase and download will be completed by our partner www.ebooks.com. Please see the permission section of the www.ebooks.com catalogue page for details of the print & copy limits on our eBooks.
Continue
×